Sekishoin, a temple with a long history
and a vast garden
Sekishoin was founded by Seikai Ajari about 1,100 years ago. It was originally called "Yamamotobo." In the Muromachi period, one of Emperor Godaigo's sons, Prince Moriyoshi, became the chief Buddhist monk at the temple. One of his guards, Akamatsu Norimura, followed his master and also became a monk, adopting the name Enshin Nyudo. Renamed "Sekishoin," the temple was has been holding memorial services for the Akamatsu family ever since. ("Sekisho" is an alternative reading of the characters for "Akamatsu.")
The temple's main highlight is its vast 6,611-m2 garden. The garden is renowned for being one of the most beautiful places at Mt. Koya. The scenery takes advantage of the proximity to Okunoin Temple, and rewards visitors with stunning views of trees and a pond in perfect harmony with the surrounding landscape, with red maple leaves in autumn. The garden is home to a tea ceremony room that is famous for its "uguisubari" corridors, whose floors make a sound like birds singing as you walk on them.
Features of Sekishoin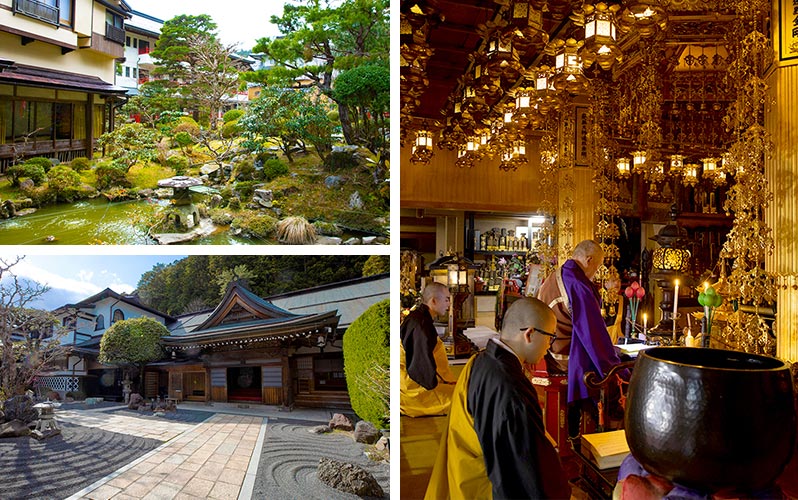 Information about Shukubo
About Shukubo
There are 52 temples that provide lodging in the Mt. Koya area, and a wide range of visitors stay at them throughout the year. Enjoy traditional shojin-ryori vegetarian cuisine and peaceful slumber in the tranquil surroundings of Mt. Koya. Sekishoin also offers plans that let you try your hand at transcribing sutras and experience other aspects of ascetic training. Guests are also welcome to take part in the Buddhist service held every morning. Enjoy things you can only experience at Shukubo.
Wi-Fi is available throughout the building.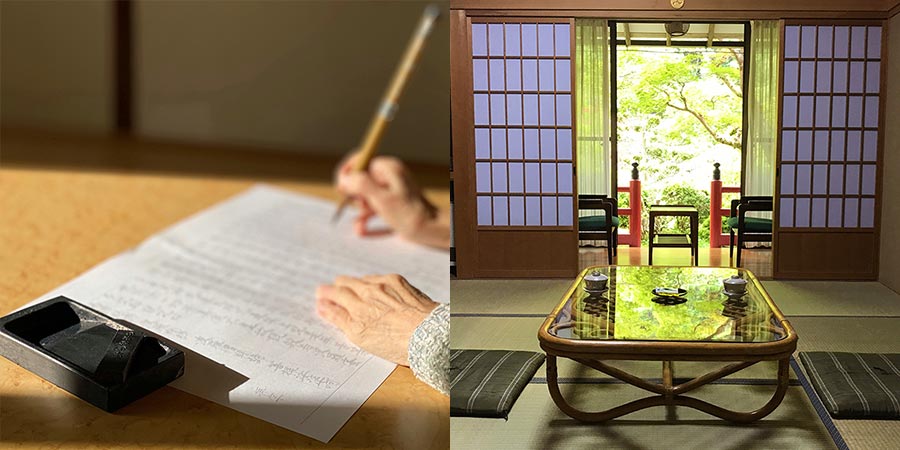 Traditional shojin-ryori vegetarian cuisine
Traditional shojin-ryori vegetarian cuisine uses no meat, fish, onions, or garlic. The delicate dishes include tempura, deep-fried tofu, Koya-dofu, sesame tofu, miso soup, and vinegared vegetables. Sesame tofu is the most recommended of them all.
The recipes have been passed down secretly from monk to monk and chef to chef for more than 1,100 years. Savor traditional shojin-ryori vegetarian cuisine.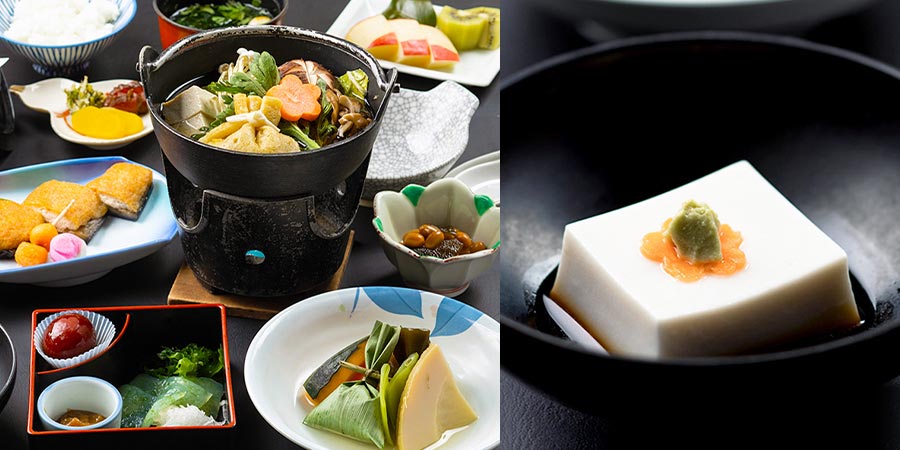 Information about Shukubo
Sacred Mt. Koya
The spirit of Japan preserved by faith.
Mt. Koya has been revered as a Buddhist monastery by a large number of people ever since it was founded by Kobo Daishi more than 1,100 years ago. Home to many temples, pagodas, and other buildings, the mountain has also become a popular sightseeing spot in recent years. Visit Mt. Koya, a place full of charm in any season.
Sacred Mt. Koya
Access