Sekishoin has a long history
and a vast garden.
A temple with more than 1,100 years history and a vast 6,611-m² garden
The origin of Sekishoin
Sekishoin was founded by Seikai Ajari about 1,100 years ago. It was originally called "Yamamotobo." In the Muromachi period, one of Emperor Godaigo's sons, Prince Moriyoshi, became the chief Buddhist monk at the temple. One of his guards, Akamatsu Norimura, followed his master and also became a monk, adopting the name Enshin Nyudo. Renamed "Sekishoin," the temple was has been holding memorial services for the Akamatsu family ever since. ("Sekisho" is an alternative reading of the characters for "Akamatsu.")
In the Edo period, the temple also became the Hosokawa and Arima family cemetery.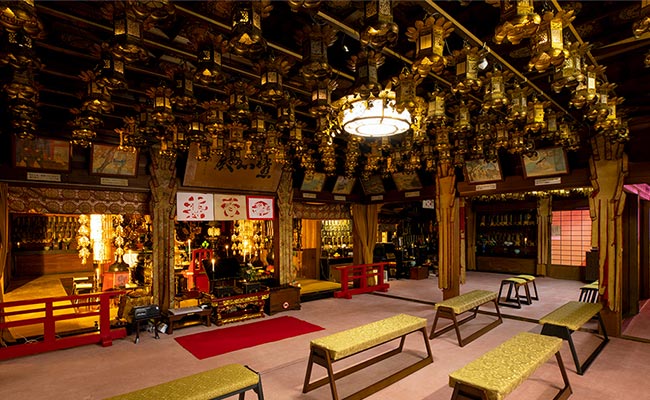 Historical temple treasures
The temple is home to a statue of the Eleven-Faced Kannon Bosatsu—currently enshrined as the temple's principle object of worship—a statue of Enshin Nyudo, who revitalized Sekishoin, a statue of Akamatsu Norisuke, genealogical records, and more.

"Wooden Sculpture of a Tiger," by Hidari Jingoro
The temple's Jodan-no-Ma houses "Wooden Sculpture of a Tiger," a piece created by famous Edo-period sculptor Hidari Jingoro. This beautiful sculpture is well worth a look.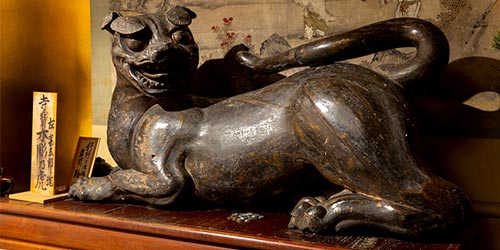 Garden
A 6,611-m² garden—
a symbol of Mt. Koya

One of the temple's main highlights is its vast 6,611-m² kaiyu-style garden.
The garden is renowned for being one of the most beautiful places at Mt. Koya, where visitors can forget about the hustle and bustle of daily life while taking a leisurely stroll. The scenery takes advantage of the proximity to Okunoin Temple, and rewards visitors with stunning views of trees and a pond in perfect harmony with the surrounding landscape, with red maple leaves in autumn.
The garden is home to a tranquil tea ceremony room with an alcove post made using heavenly bamboo. It is famous for its "uguisubari" corridors, whose floors make a sound like birds singing as you walk on them.